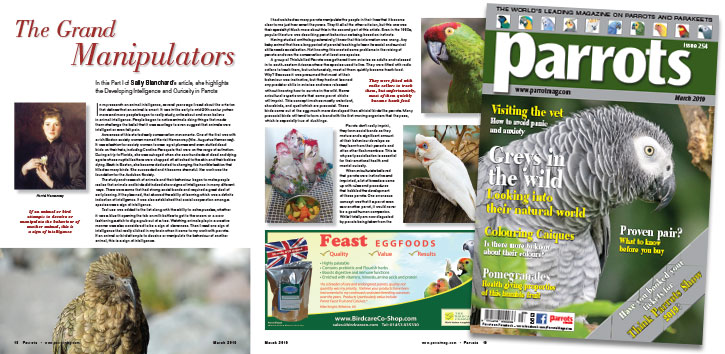 In this Part I of Sally Blanchard's article, she highlights the Developing Intelligence and Curiosity in Parrots
In my research on animal intelligence, several years ago I read about the criterion that defines that an animal is smart. It was in the early to mid 20th century when more and more people began to really study, write about and even believe in animal intelligence. People began to notice animals doing things that made them challenge the belief that it was sacrilege to even suggest that animals were intelligent or even felt pain.

Awareness of this started early conservation movements. One of the first was with a rich Boston society woman named Harriet Hemenway (Mrs. Augustus Hemenway). It was a fashion for society women to wear egret plumes and even stuffed dead birds on their hats, including Carolina Paroquets that were on the verge of extinction. During a trip to Florida, she was outraged when she saw hundreds of dead and dying egrets whose nuptial feathers were chopped off attached to the skin and their babies dying. Back in Boston, she became dedicated to changing the horrible fashion that killed so many birds. She succeeded and it became shameful. Her work was the foundation for the Audubon Society.

Buy Now!