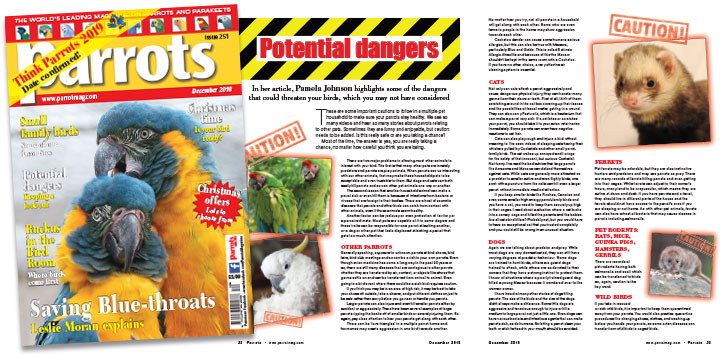 In her article, Pamela Johnson highlights some of the dangers that could threaten your birds, which you may not have considered
These are some important cautions to follow in a multiple pet household to make sure your parrots stay healthy. We see so many videos and hear so many stories about parrots relating to other pets. Sometimes they are funny and enjoyable, but caution needs to be added. Is this really safe or are you taking a chance?

Most of the time, the answer is yes, you are really taking a chance, no matter how careful you think you are being.

There are two major problems in allowing most other animals to interact with your bird. The first is that many other pets are innately predators and parrots are prey animals. When parrots see us interacting with our other animals, that may make these household pets to be acceptable and even trustable to them. But dogs and cats can both easily kill parrots and so can other pet animals one way or another.

Buy Now!