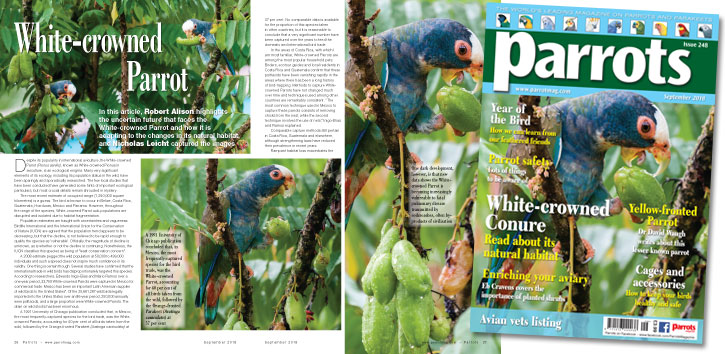 Robert Alison and Nicholas Leicht
In this article, Robert Alison highlights the uncertain future that faces the White-crowned Parrot and how it is adapting to the changes in its natural habitat, and Nicholas Leicht captured the images.

Despite its popularity in international aviculture, the White-crowned Parrot (Pionus senilis), known as White-crowned Pionus in aviculture, is an ecological enigma. Many very significant elements of its ecology, including its population status in the wild, have been sparingly and sporadically researched. The few local studies that have been conducted have generated some hints of important ecological particulars, but most crucial details remain shrouded in mystery.

The most recent estimate of occupied range (1,290,000 square kilometres) is a guess. The bird is known to occur in Belize, Costa Rica, Guatemala, Honduras, Mexico and Panama. However, throughout the range of the species, White-crowned Parrot sub-populations are disrupted and isolated due to habitat fragmentation.

Buy Now!