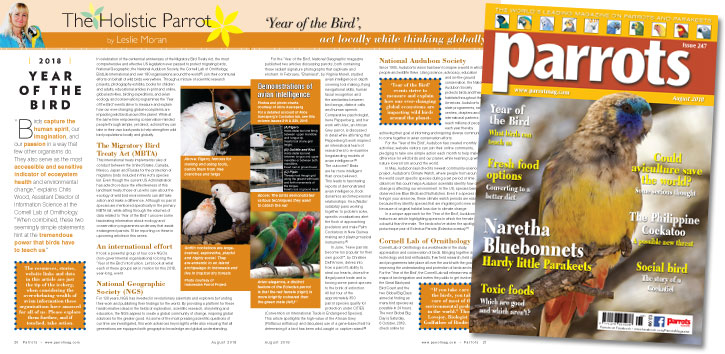 The Holistic Parrot by Leslie Moran

"Birds capture the human spirit, our imagination, and our passion in a way that few other organisms do. They also serve as the most accessible and sensitive indicator of ecosystem health and environmental change," explains Chris Wood, Assistant Director of Information Science at the Cornell Lab of Ornithology. "When combined, these two seemingly simple statements hint at the tremendous power that birds have to teach us."

In celebration of the centennial anniversary of the Migratory Bird Treaty Act, the most comprehensive and effective US legislation ever passed to protect migrating birds, National Geographic, the National Audubon Society, the Cornell Lab of Ornithology, BirdLife International and over 180 organisations around the world, join their communal efforts on behalf of wild birds everywhere. Through a mixture of scientific research projects, photography exhibits, books for children and adults, educational articles in-print and online, global activities, birding expeditions, and avian ecology and conservation programmes the 'Year of the Bird' events strive to measure and explain how our ever-changing global ecosystems are impacting wild birds around the planet. While at the same time empowering conservation-minded people through simple, yet direct, actions they can take in their own backyards to help strengthen wild bird populations locally and globally.

Buy Now!