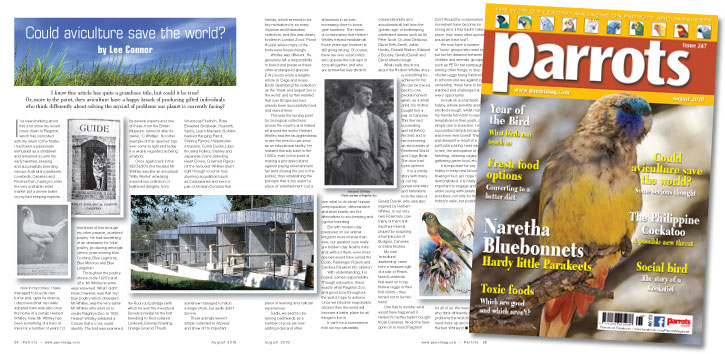 By Lee Connor

I know this article has quite a grandiose title, but could it be true? Or, more to the point, does aviculture have a happy knack of producing gifted individuals who think differently about solving the myriad of problems our planet is currently facing?

I've been thinking about this a lot since my recent move down to Paignton, which has coincided with my return to the hobby. I had been a passionate enthusiast as a child/teen and remained so until my early twenties, keeping and successfully breeding various Australian parakeets, Lovebirds, Canaries and Finches then, having to enter the very unstable rental market put a severe brake on my bird keeping exploits.

Now in my forties, I have managed to buy my own home and, quite by chance, I discovered that my newly adopted town was also once the home of a certain Herbert Whitley. Now, Mr Whitley has been something of a hero of mine for a number of years. I'd first learnt of him through my other passion, purebred poultry. He had something of an obsession for 'blue' poultry, producing amongst others, prize winning blue Cochins, Blue Leghorns, Blue Minorca and Blue Langshan.

Buy Now!