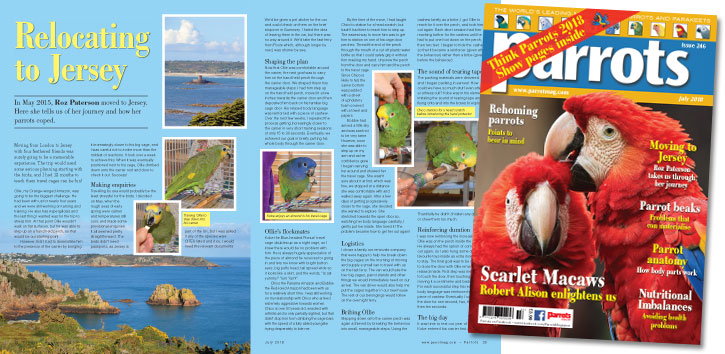 By Roz Paterson
Moving from London to Jersey with four feathered friends was surely going to be a memorable experience. The trip would need some serious planning starting with the birds, and I had 12 months to teach them travel cages can be fun!

Ollie, my Orange-winged Amazon, was going to be the biggest challenge. He had been with us for nearly four years and we were still working on taming and training. He also has Aspergillosis and the last thing I wanted was for the trip to stress him. At that point Ollie wouldn't walk on flat surfaces, but he was able to step up on a hand held perch, so that would be our starting point.

However, first I had to desensitise him to the presence of the carrier by bringing it increasingly closer to his big cage, and I was careful not to evoke more than the mildest of reactions. It took over a week to achieve this. When it was eventually positioned next to his cage, Ollie climbed down onto the carrier roof and door to check it out. Success!

Buy Now!