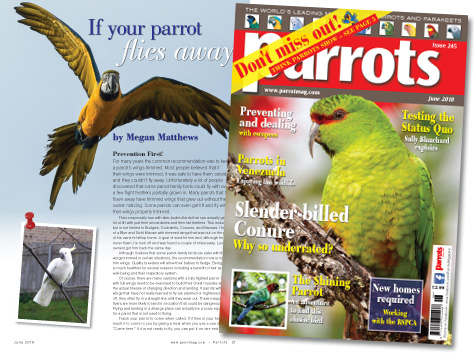 By Megan Matthews
For many years the common recommendation was to keep a parrot's wings trimmed. Most people believed that if their wings were trimmed, it was safe to have them outside and they couldn't fly away. Unfortunately a lot of people discovered that some parrot-family birds could fly with even a few flight feathers partially grown in. Many parrots that have flown away have trimmed wings that grew out without the owner noticing. Some parrots can even get lift and fly with their wings properly trimmed.

This is especially true with slim-bodied birds that can actually get a lot of lift with just their secondaries and their tail feathers. This includes, but is not limited to Budgies, Cockatiels, Conures, and Macaws. I know of a Blue and Gold Macaw with trimmed wings that was out on the patio of his owner's hilltop home. A gust of wind hit him and, although he had never flown, he took off and was found a couple of miles away. Luckily, his owners got him back the same day.

Although I believe that some parrot-family birds are safer with their wings trimmed in certain situations, the recommendation now is not to trim wings. Quality breeders will allow their babies to fledge. Being flighted is much healthier for several reasons including a benefit to their sense of well-being and their respiratory system.

Buy Now!