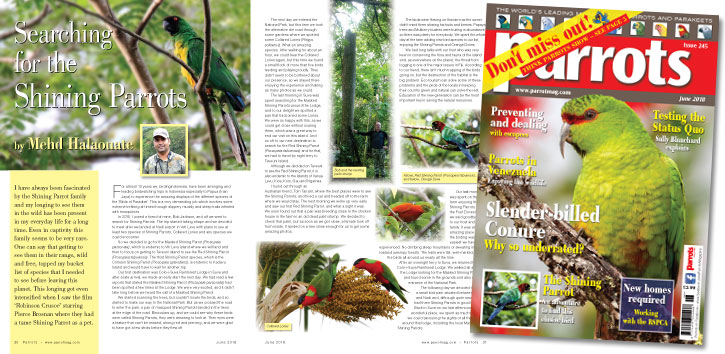 By Mehd Halaouate
I have always been fascinated by the Shining Parrot family and my longing to see them in the wild has been present in my everyday life for a long time. Even in captivity this family seems to be very rare. One can say that getting to see them in their range, wild and free, topped my bucket list of species that I needed to see before leaving this planet. This longing got even intensified when I saw the film 'Robinson Crusoe' starring Pierce Brosnan where they had a tame Shining Parrot as a pet.

For almost 13 years we, birdingindonesia, have been arranging and leading birdwatching trips in Indonesia especially to Papua (Irian Jaya) to experience the amazing displays of the different species of the 'Birds of Paradise'. This is a very demanding job which involves some extreme trekking at times through slippery muddy and steep trails infested with mosquitoes.

In 2015, I joined a friend of mine, Bob Jackson, and off we went to search for Shining Parrots. The trip started taking shape and we decided to meet after we landed at Nadi airport in Veti Levu with plans to see at least two species of Shining Parrots, Collared Lories and any species we could encounter.

Buy Now!