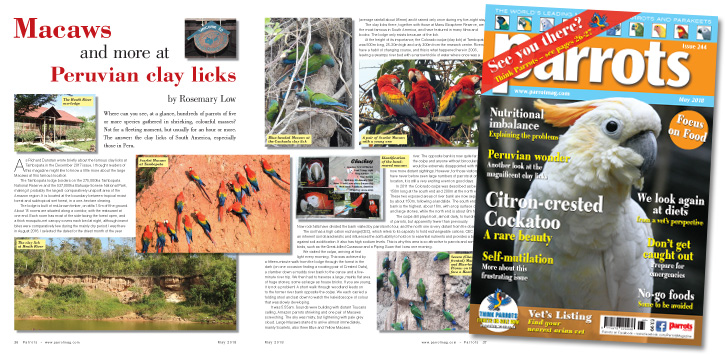 by Rosemary Low

Where can you see, at a glance, hundreds of parrots of five or more species gathered in shrieking, colourful masses? Not for a fleeting moment, but usually for an hour or more. The answer: the clay licks of South America, especially those in Peru.

As Richard Dunstan wrote briefly about the famous clay licks at Tambopata in the December 2017 issue, I thought readers of this magazine might like to know a little more about the large Macaws at this famous location.

The Tambopata lodge borders on the 275,000ha Tambopata National Reserve and the 537,000ha Bahuaja-Sonene National Park, making it probably the largest comparatively unspoilt area of the Amazon region. It is located at the boundary between tropical moist forest and subtropical wet forest, in a one-hectare clearing.

Buy Now!