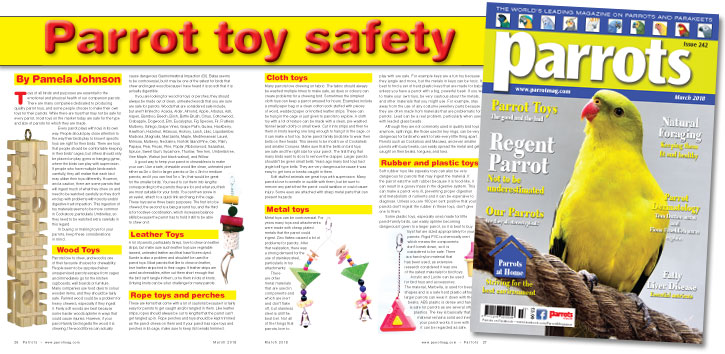 by Pamela Johnson
Toys of all kinds and purposes are essential to the emotional and physical health of our companion parrots. There are many companies dedicated to producing quality parrot toys, and some people choose to make their own toys for their parrots. While there are toys that may not be safe for every parrot, most toys on the market today are safe for the type and size of parrots for which they are made.

Every parrot plays with toys in its own way. People should pay close attention to the way their birds play to know if specific toys are right for their birds. There are toys that people should be comfortable keeping in their birds' cages, but others should only be placed on play gyms or hanging gyms, where the birds can play with supervision. If people who have multiple birds watch carefully, they will realise that each bird may utilise their toys differently. However, and a caution, there are some parrots that will ingest much of what they chew on and need to be watched carefully so they don't end up with problems with toxicity and/or digestive tract impaction. This ingestion of toy materials seems to be more common in Cockatoos, particularly Umbrellas, so they need to be watched extra carefully in this regard.

In buying or making toys for your parrots, keep these considerations in mind.

Buy Now!