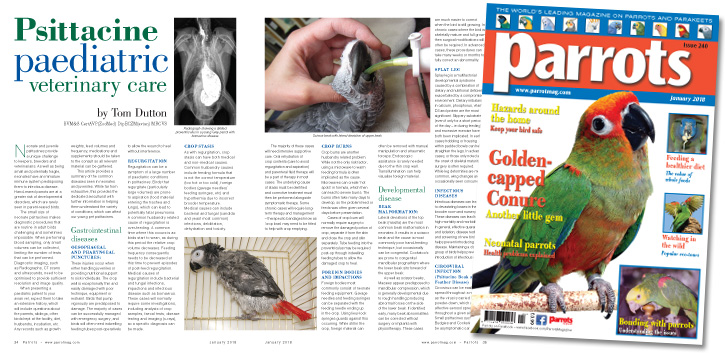 by Tom Dutton BVM&S CertAVP(ZooMed) DipECZM(avian) MRCVS
Neonate and juvenile psittacines provide a unique challenge to keepers, breeders and veterinarians. As well as being small and potentially fragile, neonates have an immature immune system predisposing them to infectious disease. Hand-reared parrots are at a greater risk of developmental disorders, which are rarely seen in parent-reared birds.

The small size of neonate psittacines makes diagnostic procedures that are routine in adult birds challenging and sometimes impossible. When performing blood sampling, only small volumes can be collected, limiting the number of tests that can be performed. Diagnostic imaging, such as Radiographs, CT scans and ultrasounds, need to be optimised to provide sufficient resolution and image quality.

When presenting a paediatric patient to your avian vet, expect them to take an extensive history, which will include questions about the parents, siblings, other birds kept at the facility, diet, husbandry, incubation, etc. Any records such as growth weights, feed volumes and frequency, medications and supplements should be taken to the consult so all relevant material can be gathered.

Buy Now!