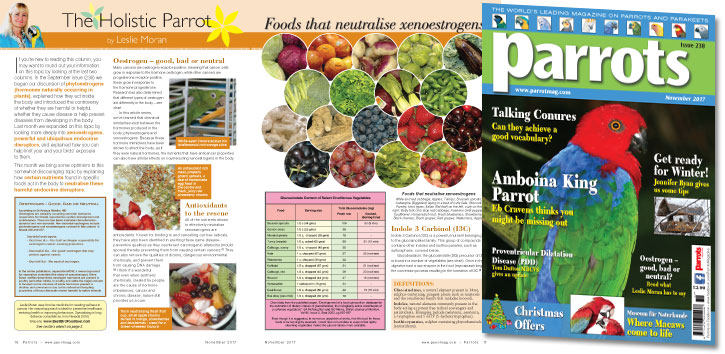 The Holistic Parrot by Leslie Moran

If you're new to reading this column, you may want to round out your information on this topic by looking at the last two columns. In the September issue (236) we began our discussion of phytoestrogens (hormones naturally occurring in plants), explained how they act inside the body and introduced the controversy of whether they are harmful or helpful, whether they cause disease or help prevent diseases from developing in the body. Last month we expanded on this topic by looking more deeply into xenoestrogens, powerful and ubiquitous endocrine disruptors, and explained how you can help limit your and your birds' exposure to them.

This month we bring some optimism to this somewhat discouraging topic by explaining how certain nutrients found in specific foods act in the body to neutralise these harmful endocrine disruptors.

Buy Now!