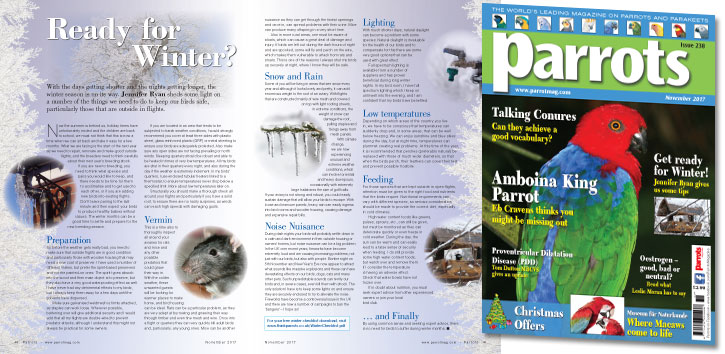 by Jennifer Ryan

With the days getting shorter and the nights getting longer, the winter season is on its way. Jennifer Ryan sheds some light on a number of the things we need to do to keep our birds safe, particularly those that are outside in flights.

Now the summer is behind us, holiday times have unfortunately ended and the children are back to school, we must not think that this is now a time when we can sit back and take it easy for a few months. What we are facing is the start of the next year as we need to repair, renovate and make-good outside flights, and the breeders need to think carefully about their next year's breeding stock.

If you are new to breeding, you need to think what species and pairs you would like to keep, and there needs to be time for them to acclimatise and to get used to each other, or if you are adding new birds into existing flights. Don't leave pairing to the last minute and then expect your birds to produce healthy babies without issues. The winter months can be a good time to settle and prepare for the new breeding season.

Buy Now!