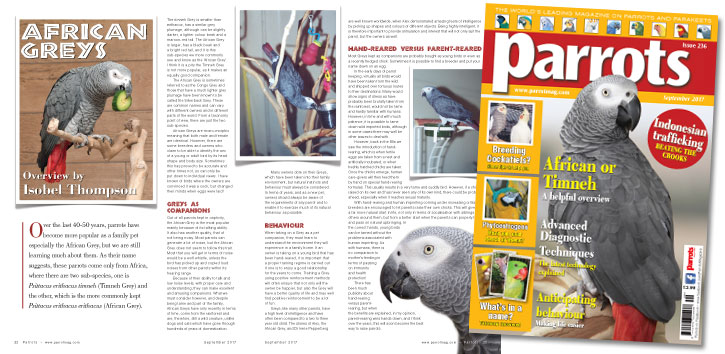 Overview by Isobel Thompson
Over the last 40-50 years, parrots have become more popular as a family pet especially the African Grey, but we are still learning much about them. As their name suggests, these parrots come only from Africa, where there are two sub-species, one is Psittacus erithacus timneh (Timneh Grey) and the other, which is the more commonly kept Psittacus erithacus erithacus (African Grey).

The timneh Grey is smaller than erithacus, has a similar grey plumage, although can be slightly darker, a lighter colour beak and a maroon-red tail. The African Grey is larger, has a black beak and a bright red tail, and it is this sub-species we more commonly see and know as the 'African Grey'. I think it is a pity the Timneh Grey is not more popular, as it makes an equally good companion.

The African Grey is sometimes referred to as the Congo Grey and those that have a much lighter grey plumage have been known to be called the Silverback Grey. These are common names and can vary with different owners and in different parts of the world. From a taxonomy point of view, there are just the two sub-species.

Buy Now!