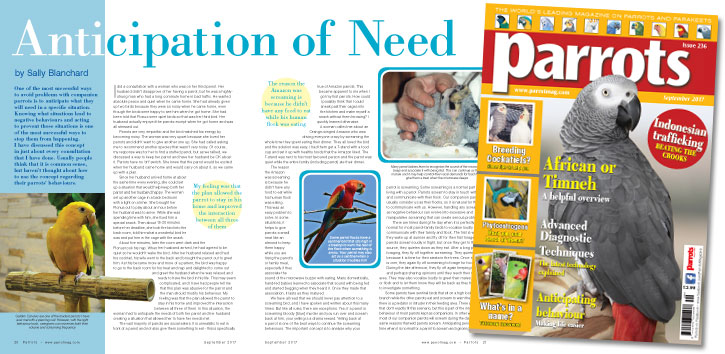 by Sally Blanchard
One of the most successful ways to avoid problems with companion parrots is to anticipate what they will need in a specific situation. Knowing what situations lead to negative behaviours and acting to prevent those situations is one of the most successful ways to stop them from happening. I have discussed this concept in just about every consultation that I have done. Usually people think that it is common sense, but haven't thought about how to use the concept regarding their parrots' behaviours.

I did a consultation with a woman who was on her third parrot. Her husband didn't disapprove of her having a parrot, but he was a highly-strung man who had a long commute home in bad traffic. He wanted absolute peace and quiet when he came home. She had already given up two birds because they were so noisy when he came home, even though the birds were happy to see him when he got home. She had been told that Pionus were quiet birds so that was her third bird. Her husband actually enjoyed the parrots except when he got home and was all stressed out.

Parrots are very empathic and the bird matched his energy by becoming noisy. The woman was very upset because she loved her parrots and didn't want to give another one up. She had called asking me to recommend another species that wasn't very noisy. Of course, my response was for her to find a stuffed parrot, but as we talked, we discussed a way to keep her parrot and have her husband be OK about it. Parrots have no 'off' switch. She knew that the parrot would be excited when her husband came home and would carry on about it, so we came up with a plan.

Buy Now!