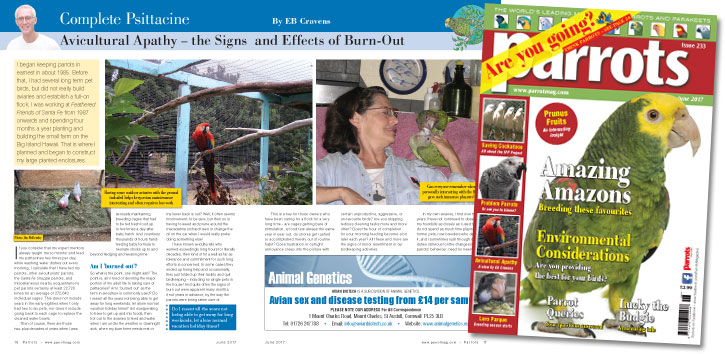 Complete Psittacine by Eb Cravens
I began keeping parrots in earnest in about 1985. Before that, I had several long term pet birds, but did not really build aviaries and establish a full-on flock. I was working at Feathered Friends of Santa Fe from 1987 onwards and spending four months a year planting and building the small farm on the Big Island Hawaii. That is where I planned and began to construct my large planted enclosures.

If you consider that my expert mentors always taught me to monitor and feed my psittacines two times per day, while washing water dishes out every morning, I calculate that I have fed my parrots, other aviculturists' parrots, the Santa Fe Shoppe parrots, and miscellaneous nearby acquaintance's pet parrots certainly at least 22,720 times for an average of 272,640 individual cages. This does not include years in the early eighties when I only had two to six pets, nor does it include going back to each cage to replace the cleaned water bowls.

Then of course, there are those two-plus decades of years when I was seriously maintaining breeding cages that had to be fed fresh food up to five times a day after baby hatch. And countless thousands of hours hand-feeding baby formula to neonate chicks up to and beyond fledging and weaning time.

Buy Now!