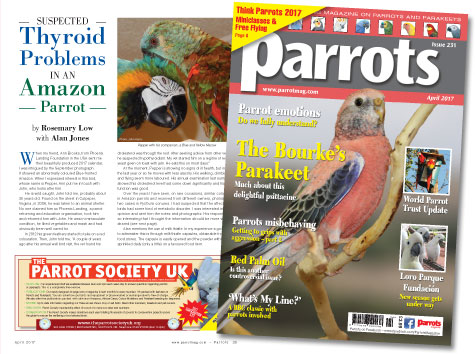 By Rosemary Low with Alan Jones
When my friend, Ann Brooks, from Phoenix Landing Foundation in the USA sent me their beautifully produced 2017 calendar, I was intrigued by the September photograph. It showed an abnormally coloured Blue-fronted Amazon. When I expressed interest in this bird, whose name is Pepper, Ann put me in touch with John, who looks after him.

He is wild caught, John told me, probably about 35 years old. Found on the street in Culpeper, Virginia, in 2006, he was taken to an animal shelter. No one claimed him so Phoenix Landing, a parrot rehoming and education organisation, took him and rehomed him with John. He was in immaculate condition, he liked vegetables and mash and had obviously been well cared for.

Buy Now!