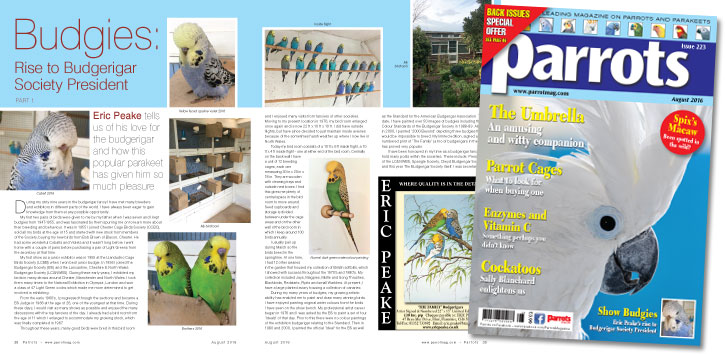 Eric Peake tells us of his love for the budgerigar and how this popular parakeet has given him so much pleasure.

During my sixty nine years in the budgerigar fancy I have met many breeders and exhibitors in different parts of the world. I have always been eager to gain knowledge from them at any possible opportunity.

My first two pairs of birds were given to me by my father when I was seven and I kept budgies from 1947-1955, and was fascinated by them spurring me on to learn more about their breeding and behaviour. It was in 1955 I joined Chester Cage Birds Society (CCBC), sold all my birds at the age of 15 and started with new stock from members of the Society, buying my new birds from Bob Brown of Blacon, Chester. He had some wonderful Cobalts and Violets and it wasn't long before I went home with a couple of pairs before purchasing a pair of Light Greens from the secretary at that time.

My first show as a junior exhibitor was in 1955 at the Llandudno Cage Birds Society (LCBB) when I won best junior budgie. In 1956 I joined the Budgerigar Society (BS) and the Lancashire, Cheshire & North Wales Budgerigar Society (LC&NWBS). During these early years, I exhibited my birds in many shows around Chester, Manchester and North Wales. I took them many times to the National Exhibition in Olympia, London and won a class of 47 Light Green cocks which made me more determined to get involved in exhibiting.

Buy Now!