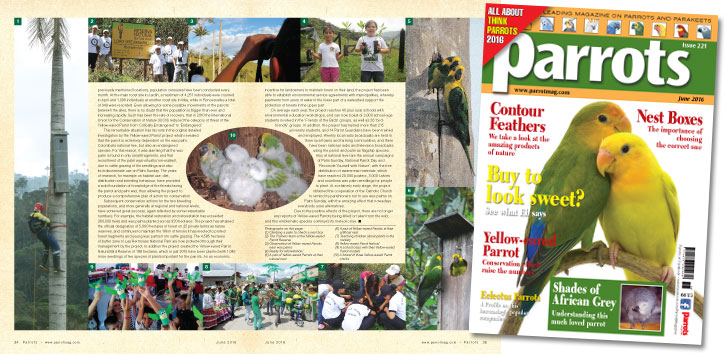 A project without equal, backed by Loro Parque Fundación, by Dr David Waugh
Rare indeed is a conservation project about which the news is so relentlessly positive, but without doubt one of them is the project to save the Yellow-eared Parrot (Ognorhynchus icterotis) from extinction in Colombia. A product of the partnership between the Loro Parque Fundación (LPF) of Tenerife, Spain and Fundación ProAves of Colombia, this project is arguably the most successful in South America. It is a project where the extraordinary increase in numbers speaks for itself.

In the mid-1990s, the LPF was supporting the protection in Ecuador of the last known Yellow-eared Parrots, 20 individuals in total. By 1998 they had disappeared, and it was feared that the species was completely extinct. However, in the same year, and based on hearsay of its continued existence in Colombia, ProAves, with the support of the LPF, the Zoological Society for the Conservation of Species and Populations (ZGAP) and American Bird Conservancy, began the Yellow-eared Parrot project with the main objectives of ensuring the survival of the species and habitat protection in the Colombian Andes. In 1999, after a year of searching, a population of 81 individuals was found in the central Andes, in the community of Roncesvalles, Department of Tolima. In January 2001, a second population with 63 individuals was found in foothills of the western Andes, in Jardín, Department of Antioquia.

Buy Now!