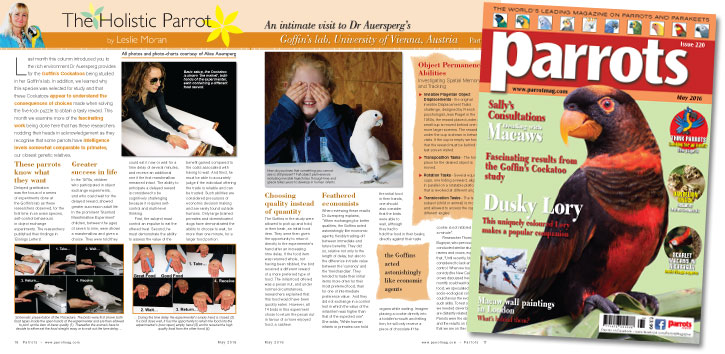 The Holistic Parrot by Leslie Moran
Last month this column introduced you to the rich environment Dr Auersperg provides for the Goffin's Cockatoos being studied in her Goffin's lab. In addition, we learned why this species was selected for study and that these Cockatoos appear to understand the consequences of choices made when solving the five-lock puzzle to obtain a tasty reward. This month we examine more of the fascinating work being done here that has these researchers nodding their heads in acknowledgement as they recognise that some parrots have intelligence levels somewhat comparable to primates,
our closest genetic relatives.

Delayed gratification was the focus of a series of experiments done at the Goffin's lab as these researchers observed, for the first time in an avian species, self-control behaviours in object exchange experiments. The researchers published their findings in 'Biology Letters'.

Buy Now!