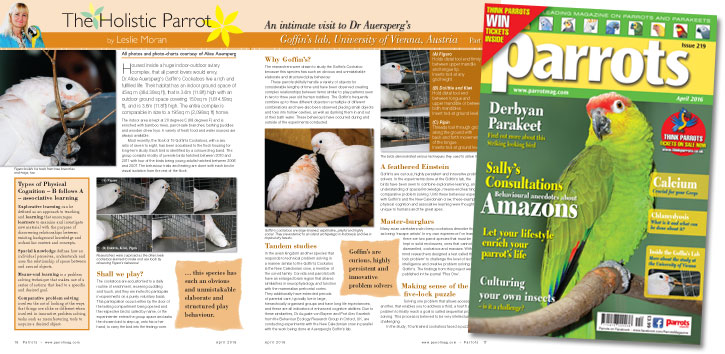 The Holistic Parrot by Leslie Moran
Housed inside a huge indoor-outdoor aviary complex, that all parrot lovers would envy, Dr Alice Auersperg's Goffin's Cockatoos live a rich and fulfilled life. Their habitat has an indoor ground space of 45sq m (484.38sq ft), that is 3.6m (11.8ft) high with an outdoor ground space covering 150sq m (1,614.59sq ft), and is 3.6m (11.8ft) high. The entire complex is comparable in size to a 195sq m (2,098sq ft) home.

The indoor area is kept at 20 degrees C (68 degrees F) and is enriched with bamboo trees, parrot-safe branches, bathing puddles and wooden chew toys. A variety of fresh food and water sources are always available.
Most recently, the flock of 15 Goffin's Cockatoos, with a sex ratio of seven to eight, has been socialised to the flock housing for long-term study. Each bird is identified by a coloured leg band. The group consists mostly of juvenile birds hatched between 2010 and 2011 with four of the birds being young adults hatched between 2006 and 2007. The behaviour trials and testing are done with each bird in visual isolation from the rest of the flock.

Buy Now!