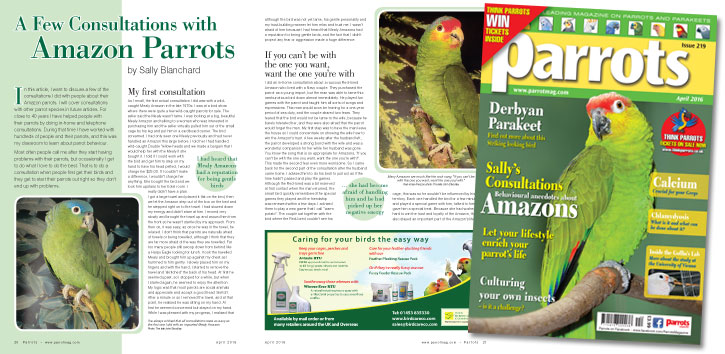 by Sally Blanchard
In this article, I want to discuss a few of the consultations I did with people about their Amazon parrots. I will cover consultations with other parrot species in future articles. For close to 40 years I have helped people with their parrots by doing in-home and telephone consultations. During that time I have worked with hundreds of people and their parrots, and this was my classroom to learn about parrot behaviour.

Most often people call me after they start having problems with their parrots, but occasionally I get to do what I love to do the best. That is to do a consultation when people first get their birds and they get to start their parrots out right so they don't end up with problems.
As I recall, the first actual consultation I did was with a wild-caught Mealy Amazon in the late 1970s. I was at a bird show where there were quite a few wild-caught parrots for sale. The seller said the Mealy wasn't tame. I was looking at a big, beautiful Mealy Amazon and talking to a woman who was interested in purchasing him and the seller virtually pulled him out of the small cage by his leg and put him in a cardboard carrier. The bird screamed. I had only seen one Mealy previously and had never handled an Amazon this large before. I told her I had handled wild-caught Double Yellow-heads and we made a bargain that I would help her with the Mealy if she bought it..

Buy Now!