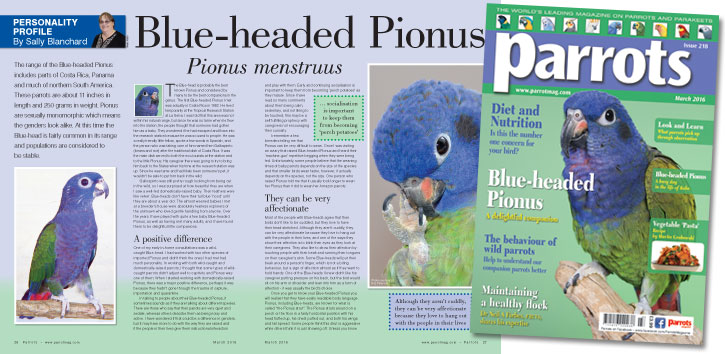 Personality Profile by Sally Blanchard
The range of the Blue-headed Pionus includes parts of Costa Rica, Panama and much of northern South America. These parrots are about 11 inches in length and 250 grams in weight. Pionus are sexually monomorphic which means the genders look alike. At this time the Blue-head is fairly common in its range and populations are considered to be stable.

The Blue-head is probably the best known Pionus and considered by many to be the best companions in the genus. The first Blue-headed Pionus I met was actually in Costa Rica in 1982. He lived temporarily at the Tropical Research Station at La Selva. I was told that this area was not within his natural range, but since he was so tame when he flew into the station, the people thought that someone had gotten him as a baby. They wondered if he had escaped and flown into the research station because he was so used to people. He was a really friendly little fellow, spoke a few words in Spanish, and the person who was taking care of him named him Gallospinto (beans and rice) after the traditional dish of Costa Rica. It was the main dish served to both the eco-tourists at the station and to the little Pionus. His caregiver there was going to try to bring him back to the States when his time at the research station was up. Since he was tame and had likely been someone's pet, it wouldn't be safe to put him back in the wild.

Buy Now!