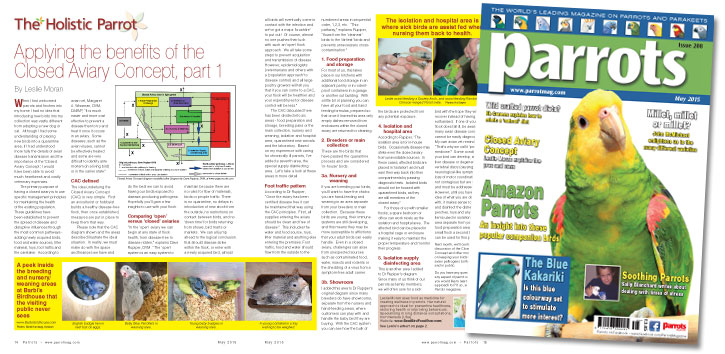 Applying the benefits of the Closed Aviary Concept, part 1
by Leslie Moran

When I first welcomed parrots and finches into my home I had no idea that introducing new birds into my collection was vastly different from adopting a new dog or cat. Although I had some understanding of placing new birds into a quarantine area, if I had understood more fully the details of avian disease transmission and the importance of the 'Closed Aviary Concept', I would have been able to avoid much heartbreak and costly veterinary expenses.

The primary purpose of having a closed aviary is to use specific management principles for maintaining the health of the existing population. These guidelines have been established to prevent the spread of disease and disruptive influences through the most common pathways - adding newly acquired birds, food and water sources, litter material, toys, foot traffic and the caretaker. According to avian vet, Margaret A. Wissman, DVM, DABVP, "It is much easier and more cost effective to prevent a disease than to try and treat it once it occurs in an aviary. Some diseases, such as the avian viruses, cannot be effectively treated and some are very difficult to identify ante mortem (in a living bird) or in the carrier state."

Buy Now!